News
Field visit of Swedish Embassy to the SUNREED project partners for the sector of biomass production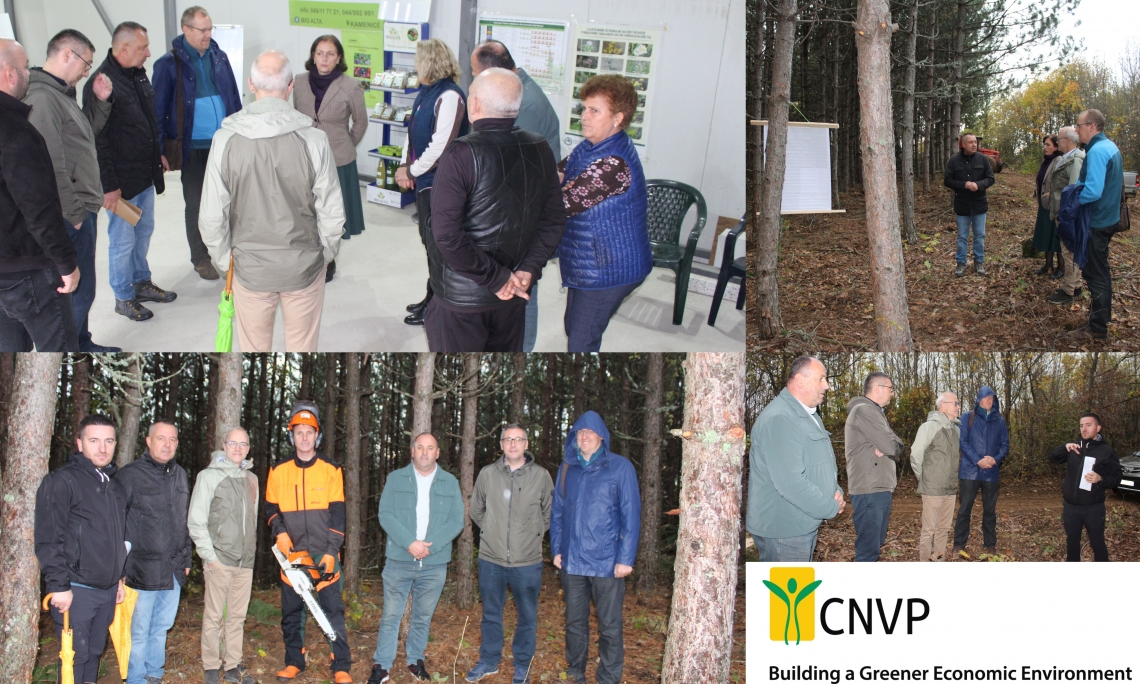 On November 15th, 2023, the CNVP Kosovo team was delighted to coordinate a collaborative field visit with senior representative from the Swedish Embassy, in the municipalities of Kamenie and Vitia. During the visit, project activities focused on the systemic approach to biomass production and the extraction of non-wood forest products, were showcased by project partners.
The visit started in the two forest sites of the village Tugjevc, municipality of Kamenice, where silvicultural activities are taking place based on the agreement made with pellet and woodchips production company "Feniks". Based on the agreement, the forest management plans for private forest owners through association of private forest owners in Kamenice are prepared, silvicultural activities (cleaning, thinning etc) are being realized and the wood biomass from these sites is being collected, transported to collection point for processing into wood chips and sent to heating system in Gjakova.
The objective of such partnership is to encourage companies and private forest owners to work together and based on forest management plans to improve the forest stand structure, secure wood biomass from sustainably managed forest as well as increase incomes for private forest owners.
In Kamenice, the delegation met with the "Bioalta" business for collection and cultivation of non-wood forest products leaded by woman with whom the SUNREED project started partnership agreement for a processing line and producing vinegar from apples collected in the forest. "Bioalta" introduced the group with the new opportunities for the market at the local and exporting of this product as well as inclusion of local community in the collection of non-wood forest fruits. As shown, the partnership will indicate increase of the production capacities, improvement of product quality as well as increase of incomes for marginalised groups (women and minorities) of this region.
The group continued the visit in the Vitia municipality to another company "Dardani" that already started implementation of partnership agreement with the SUNREED project for preparation of management plans for private forest owners) and established a biomass collection point where forest residues and other waste wood can be produced into wood biomass for energy purposes.